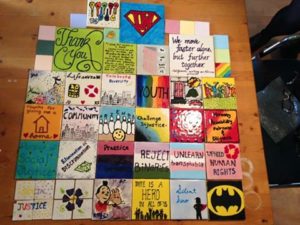 The Dalhousie School of Social Work & The Youth Project are creating a mosaic to be unveiled in March, and we need your help! Each tile in this mosaic will be hand-painted by community members and celebrate our founders, and the life of our first Executive Director, Leighann Wichman (1972-2014).
Who are we recognizing?
Planned Parenthood NS
The Youth Project
LGBTQ Youth,
Brenda Richard,
Maura Donovan,
Leighann Wichman
If you would like to help us, please join us!
Friday, Feb. 3rd / 5:30pm, 2281 Brunswick Street
Open to the community! Snacks & drinks provided!
Paint a tile that celebrates The YP & these amazing people. If you don't have a design in mind, some will be provided for you!
Can't make it, but want to submit a design or an idea?
E-mail [email protected] or call 902-429-5429 and tell us!
THIS WILL BE THE FINAL PAINTING SESSION!