The YP @ Hal-Con SciFiCon!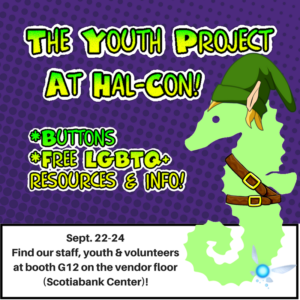 We're gonna have a booth at HalCon Science Fiction & Fantasy covention! Catch us on the vendor floor giving away LGBTQ+ info & resources, and selling some fun LGBTQ+ fandom-related buttons. Also catch the LGBT-Rex around there somewhere.
Our booth is G12 on the Vendor floor of the Scotiabank Centre.
If you are attending the con and want specific information, or maybe you have a binder/gaff order you want to access, let us know! We'll hold it at our booth for you.