So much fun it's back again!
A drag & lip-synch show featuring youth performers, plus a few local special guest drag performers!
Excited to welcome our Youth Drag Show mentors, Kowyn, Shayla Shenanigan & Elle Noir! They'll be a panel of Paulas and give all our performers some love, as well as strut their own stuff on stage!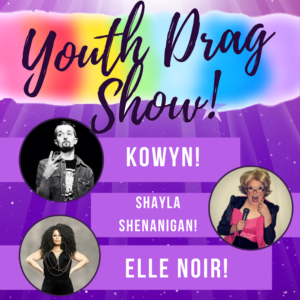 Thurs. February 8th  / 6:30
Halifax Central Library
Paul O'Regan Hall
Open to youth 12-25!
Strut your stuff! Win fun prizes!
It's a youth drag & lip-sync show!
WANT TO PERFORM? REGISTER NOW!
Please use the 'clean' versions of your songs/tracks where at all possible.
E-mail Donna: [email protected]
or call 902-490-5707