It's a bonus round for February! Because it's Black History Month (also known as African Heritage Month), we're bringing you multiple titles of LGBTQ+ young adult fiction featuring youth who are black or of African descent.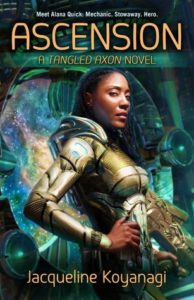 Title: Acension
Author: Jacqueline Koyanagi
Synopsis: Alana Quick is the best damned sky surgeon in Heliodor City, but repairing starship engines barely pays the bills. When the desperate crew of a cargo vessel stops by her shipyard looking for her spiritually advanced sister Nova, Alana stows away. Maybe her boldness will land her a long-term gig on the crew. But the Tangled Axon proves to be more than star-watching and plasma coils. The chief engineer thinks he's a wolf. The pilot fades in and out of existence. The captain is all blond hair, boots, and ego . . . and Alana can't keep her eyes off her. But there's little time for romance: Nova's in danger and someone will do anything–even destroying planets–to get their hands on her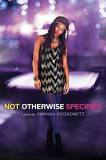 Title: Not Otherwise Specified
Author: Hanna Moskowitz
Synopsis: Etta is tired of dealing with all of the labels and categories that seem so important to everyone else in her small Nebraska hometown.
Everywhere she turns, someone feels she's too fringe for the fringe. Not gay enough for the Dykes, her ex-clique, thanks to a recent relationship with a boy; not tiny and white enough for ballet, her first passion; not sick enough to look anorexic (partially thanks to recovery). Etta doesn't fit anywhere—until she meets Bianca, the straight, white, Christian, and seriously sick girl in Etta's therapy group. Both girls are auditioning for Brentwood, a prestigious New York theater academy that is so not Nebraska. Bianca might be Etta's salvation…but can Etta be saved by a girl who needs saving herself?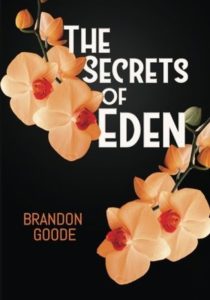 Title: The Secrets of Eden
Author: Brandon Goode
Synopsis: When Eden discovers he possesses forbidden magic, keeping his affair with the crown prince a secret becomes the least of his worries. Eden has always obeyed the laws of Rolaria. He spends his days teaching children how to read in order to distract him from his mother's bizarre disappearance. She worked in the castle before suddenly vanishing, and when Eden mistakenly receives an invitation to the Royal Ball, he goes to feel closer to her. That same night, Prince Jared must find a bride. But after an unexpected encounter between Eden and the prince, a relationship begins. After a night with the prince, Eden explores the castle on his own. Lost in the corridors, he stumbles upon a hidden room and finds his mother's journal, whose pages reveal a lineage of outlawed magic. He soon realizes the castle walls not only hide his romance with Jared but secrets about his mother's disappearance. In order to unravel the mystery and understand his awakening abilities, Eden must risk exposing his relationship and thwarting Jared's chances to rule Rolaria. The closer Eden gets to the truth, the closer he finds himself facing the same fate as his mother.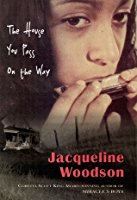 Title: The House You Pass on the Way
Author: Jacqueline Woodson
Synopsis: Staggerlee is used to being alone. As the granddaughter of celebrities and the daughter of an interracial couple in an all-black town, she has become adept at isolating herself from curious neighbors. But then her cousin, Trout, comes to visit. Trout is exactly like Staggerlee wishes she could be: outspoken, sure of herself, beautiful. Finally, Staggerlee has a friend, someone she can share her deepest, most private thoughts with. Someone who will teach her how to be the strong girl she longs to be. But is Trout really the girl Staggerlee thinks she is?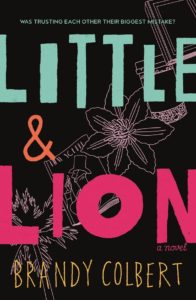 Title: Little & Lion
Author: Brandy Colbert
Synopsis: When Suzette comes home to Los Angeles from her boarding school in New England, she isn't sure if she'll ever want to go back. L.A. is where her friends and family are (along with her crush, Emil). And her stepbrother, Lionel, who has been diagnosed with bipolar disorder, needs her emotional support.
But as she settles into her old life, Suzette finds herself falling for someone new…the same girl her brother is in love with. When Lionel's disorder spirals out of control, Suzette is forced to confront her past mistakes and find a way to help her brother before he hurts himself–or worse?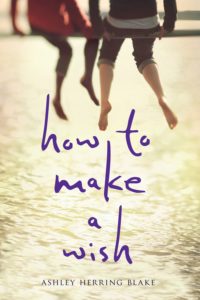 Title: How to Make a Wish
Author: Ashley Herring Blake
Synopsis: All seventeen year-old Grace Glasser wants is her own life. A normal life in which she sleeps in the same bed for longer than three months and doesn't have to scrounge for spare change to make sure the electric bill is paid. Emotionally trapped by her unreliable mother, Maggie, and the tiny cape on which she lives, she focuses on her best friend, her upcoming audition for a top music school in New York, and surviving Maggie's latest boyfriend—who happens to be Grace's own ex-boyfriend's father.
Her attempts to lay low until she graduates are disrupted when she meets Eva, a girl with her own share of ghosts she's trying to outrun. Grief-stricken and lonely, Eva pulls Grace into midnight adventures and feelings Grace never planned on. When Eva tells Grace she likes girls, both of their worlds open up. But, united by loss, Eva also shares a connection with Maggie. As Grace's mother spirals downward, both girls must figure out how to love and how to move on.