We often create different visual displays in the Youth Project that celebrate different aspects of our community, from LGBTQ2+ authors and athletes to local activists and fictional characters.
For Black History Month (also known as African Heritage Month), we've created a display celebrating the contributions of many LGBTQ2+ people. While the display itself is in our front room, we're also going to highlight the profiles and lives of the persons within it here on our website. Check in throughout the month of February to see new people and learn more! If you want to follow our updates on social media, follow us on Facebook, Twitter and Instagram.
Chris Cochrane

Chris Cochrane is a transgender activist . She is originally from Glace Bay Cape Breton, nd has worked as a Sonar Operator in the Canadian Navy. She's been performing drag for 13 years as the fabulous Elle Noir, and was an actor for two seasons of the Out Tv Network's Sex & Violence (filmed in Halifax!). Chris is also a licesend Esthetican and Makeup artist. If you attended our latest Youth Drag Show, you saw Elle Noir as a member of our judges' panel and performer! You can also see Chris in Alan Doyle's new music video, Beautiful, a tribute to the LGBTQ+ community.
Learn more…
Prodigy (David Alleyne)

Prodigy (David Alleyne) is a fictional superhero appearing in American comic books published by Marvel Comics, commonly in association with the X-Men. His superpowers involve the ability to telepathically absorb the knowledge and skills of anyone nearby. He came out as bisexual in Issue #9 of Young Avengers. He's known to have a not-so-secret crush on Hulkling.
"David stands as one of the very VERY few Black queer characters in comics. While there are some others, especially in the realm of independent comics and publishers, to have so little representation of Black queerness is disheartening. Yet, at least so far, I value the narrative that David brings forth because it challenges views of sexual orientation as monosexual (biphobia exists, y'all) and always known and present. David highlights that many of us may not fully explore who we are until we have the opportunity and safety to do so." (Link 1).
Learn more…
Seimone Augustus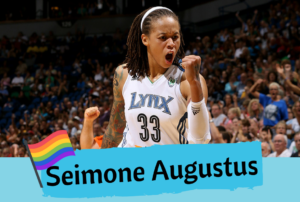 Seimone Augustus is a two-time champion and Finals MVP of the Women's National Basketball Association (WNBA). She currently plays for the Minnesota Lynx and the United States National Team. She and her wife LaTaya married in 2015!
"I knew I was gay by the time I reached middle school. I've never been attracted to guys. I can appreciate their beauty, but it comes without desire. I've always had a more intimate connection with women. In high school, I kissed a girl for the first time. It felt too comfortable and too right to think I was anyone but whom I was in that moment. I've followed that honesty my whole life."
Learn more…
Miss Major!

Miss Major  is a trans woman activist and community leader for transgender rights, with a particular focus on women of color and people of colour who are in conflict with the law. She has participated in many activist causes, including her presence and participation at the Stonewall Riots in 1969, a milestone in organized LGBT rights activism. Her tireless efforts as an activist and respected elder in the community have not only saved countless lives but paved the way for modern day trans and gender non-conforming people operating in the public spotlight and fighting for queer people on a national level. Her legacy has even inspired an award-winning documentary called MAJOR!
Learn more…
Jason Collins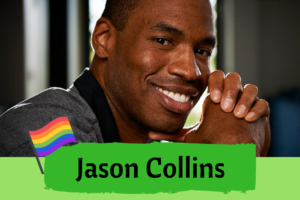 Jason Collins made history as the first openly gay active player in the four major US sports leagues. Now retired from professional basketball, Jason has played 13 seasons overall, for 6 pro teams and appeared in 2 NBA finals. He came out publicly in 2013 in an issue of Sports Illustrated, by writing an open letter, stating "I didn't set out to be the first openly gay athlete playing in a major American team sport. But since I am, I'm happy to start the conversation. I wish I wasn't the kid in the classroom raising his hand and saying, "I'm different." If I had my way, someone else would have already done this. Nobody has, which is why I'm raising my hand."
Learn more…
Audre Lorde

The self-described "Black feminist, lesbian, poet, mother, warrior" Audre Lorde (1934-1992) was a native New Yorker and daughter of immigrants. Both her activism and her published work speak to the importance of struggle for liberation among oppressed peoples and of organizing in coalition across differences of race, gender, sexual orientation, class, age and ability. An internationally recognized activist and artist, Audre Lorde was the recipient of many honors and awards. In designating her New York State's Poet Laureate, Governor Mario Cuomo observed: "Her imagination is charged by a sharp sense of racial injustice and cruelty, of sexual prejudice…She cries out against it as the voice of indignant humanity. Audre Lorde is the voice of the eloquent outsider who speaks in a language that can reach and touch people everywhere".
Learn more…
Bessie Smith

Bessie Smith was a professional singer. Nicknamed the "Empress of the Blues", she was the most popular female blues singer of the 1920s and 1930s. Both Bessie and the lyrics of her songs were open about her bisexuality. She is often regarded as one of the greatest singers of her era and was a major influence on other jazz singers. Her wide appeal brought the blues subculture into the mainstream and forced venues to desegregate. She recorded over 200 songs before her untimely death in a car crash at 43 in 1937, by which time she'd made her way from Tennessee to big stardom — redefining gender expectations, challenging a deeply homophobic culture, and destroying all of her obstacles on the way.
Learn more…
Karamo Brown

Karamo Brown is a TV personality and writer. He's the Culture Expert in the new reboot of Queer Eye! He's an activist for LGBTQI rights, a father of two, has a background in social work, and he's a co-founder of 6in10.org, which aims to combat the stigma around HIV that plagues gay and bisexual African-American men.
Learn more…
Samira Wiley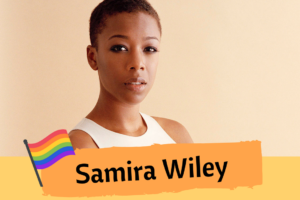 Samira Wiley is an actress, producer and model. She is best known for her role as Poussey in Orange is the New Black and Moira in The Handmaid's Tale (for which she received an Emmy nomination). Her parents are both Baptist preachers who were among the first to perform same-sex unions in Washington, D.C.
On building her career with first playing openly gay, black women, she says: "When you have a platform and so many people looking up to you, I feel like it's your responsibility to step up to the plate." She marvels at what it means that little girls can see her prolific, extremely gay-positive Instagram feed and say to themselves, as she puts it, "Hey, I look like you, and I also like girls, and look what you did, and how happy you are. I can do that too". She met her wife on the set of OITNB, and they married in 2017!
Learn more…
Andrea Jenkins

Andrea Jenkins is an American policy aide, writer, and artist. She made history as the first African American openly trans woman to be elected to office in the United States, serving since January 2018 on the Minneapolis City Council. She won roughly 73% of the vote against other candidates.
"As an out African American trans-identified woman, I know firsthand the feeling of being marginalized, left-out, thrown under the bus. Those days are over. We don't just want a seat at the table—we want to set the table". -Andrea's election speech.
Learn more…
Todrick Hall

Todrick is an American singer, actor & dancer. After his performances on American Idol, Todrick has gained a large YouTube following. He's perhaps best known for his Disney-inspired music videos, and has gone on to star in Broadway productions of Kinky Boots (as Lola) & Chicago (as Billy Flynn). You can also spot him as a guest judge and choreographer on RuPaul's Drag Race, see his 2017 documentary Behind the Curtain, and hear him in the Bob's Burgers Christmas special, The Bleakening, as Miss Triple XXXMas.
Learn more…
Bayard Rustin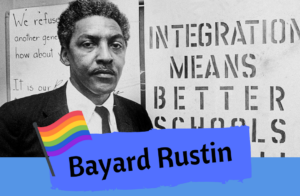 Bayard Rustin was a civil rights organizer and activist, best known for his work as adviser to Martin Luther King Jr. in the 1950s and '60s, and as the main organizer of the 1963 March on Washington. In addition to civil rights and the fight against racism, he was a leader in social movements for socialism, nonviolence and gay rights. Despite all his achievements and contributions, he was often behind the scenes or kept silent because he was openly gay in a violently homophobic era, and his sexuality was seen as a liability. When a man of his stature and resume of accomplishment dies, they are usually hailed in admiration, but for Rustin it would take many years for that to happen. For all of his influence and impact on human rights, his sexual orientation still caused even his  memory to hide in the background. Over the years, however, thoughts about him would emerge from the shadows to finally put him in the spotlight and showcase the enormity of his contributions. This includes a posthumous Presidential Medal of Freedom from Pres. Obama, and the documentary Brother Outsider, which explores his life and story.
Learn more…
Frank Ocean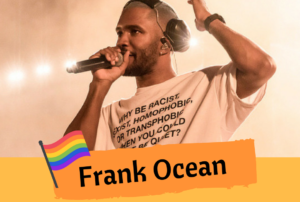 Frank Ocean is an American independent singer, songwriter, rapper & producer. He's a two-time Grammy and GLAAD Media Award winner. His album Channel Orange prompted his coming out, as his songs explored his feelings for his first love, another guy.  He came out in the liner notes of the album: "4 summers ago, I met somebody. I was 19 years old. He was too. We spent that summer, and the summer after, together. Every day almost, and on the day we were together, time would glide. Most of the day I'd see him, and his smile. By the time I realized I was in love, it was malignant. It was hopeless," Ocean writes.
Learn more…
Caster Semenya

Caster Semenya is a South African middle-distance runner and 2016 Olympic gold medalist, and 2017 World Championships bronze medalist.
Caster came to national attention when the IAAF put her through "sex verification testing", a practice among Olympic athletics. Her abilities caused suspicion that she was "too good", or advantaged in some way by her own biological makeup. This also brought to light the issues around sex testing, intersex bodies, and race with the more common practice of scrutinizing and testing women of colour. Added to this, Caster's "test" information was leaked to the press and she had to be very resilient as her name was rocketing through the media and online. Her story is a powerful lesson in confidentiality and sensitivity as well as the ongoing issue of "sex testing", and how we frame "advantage" in athletics. SO much could be written about her experience we're struggling to keep it short, but check out the Learn More links to read more in-depth about it.
Caster has never publicly commented on her experience or how she defines her own sexual orientation, saying only "God made me the way I am and I accept myself. I am who I am and I'm proud of myself". She's married to her long-term partner Violet, and they're now expecting a child (<3!).
Learn more…
Chi Chi DeVayne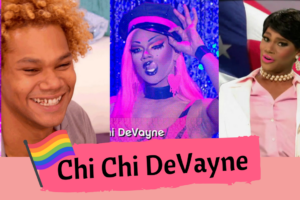 Chi Chi, aka Zavion Davenport, is a drag performer from Shreveport, Louisiana. ChiChi was a competitor on Season 8 of RuPaul's Drag Race, and a current competitor on Drag Race AllStars 3! Many viewers didn't peg Chi Chi as a frontrunner in season 8, but as the weeks progressed, she won over the many fans who are cheering her on.
"I don't get ready, I stay ready!"
Learn more…
Lena Waithe

Lena Waithe is an American actress, producer, and screenwriter. She made history at the 2017 Emmys when she won an award for Outstanding Writing for a Comedy Series, becoming the first black woman to do so. The episode for which she won the Emmy was partially based on her personal experience coming out to her mother.
Her Emmy acceptance speech included a message to the LGBTQIA community: "I love you all and last but certainly not least my LGBTQIA family. I see each and every one of you. The things that make us different, those are our superpowers — every day when you walk out the door and put on your imaginary cape and go out there and conquer the world because the world would not be as beautiful as it is if we weren't in it".
Learn more…
Nalo Hopkinson

Nalo Hopkinson is a Jamaican-born Canadian author, known for her speculative fiction & science fiction. Nalo's work often draws on Caribbean language, history and tradition & has won many awards and recognitions, including the Prix Aurora Award (Canada's reader-voted award for science fiction and fantasy) and the Sunburst Award for Canadian Literature of the Fantastic, making her the first author to receive the Sunburst Award twice. Nalo is currently a professor of Creative Writing at the University of California Riverside, and a member of a faculty research cluster in Science Fiction.
Learn more…
Tru Wilson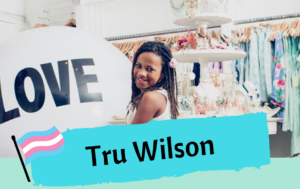 Tru Wilson is an articulate and bold thirteen-year old transgender advocate from Vancouver, British Columbia. Tru first made headlines when her human rights complaint filed against a local Catholic school resulted in a first-ever Catholic school policy that supported a child's transition in school. With continued love and support from her family, Tru has become a proud and voracious speaker for Trans rights, and in 2015 was recognized by Vancouver Magazine as one of the city's 50 most powerful and influential people. She has also been the parade marshall for Vancouver Pride, and she's a filmmaker.
Learn more! 
Walter Borden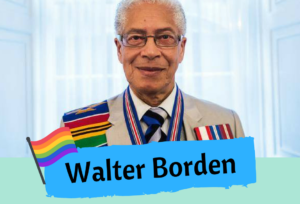 Walter Borden is a Canadian actor, poet and playwright. He is originally from New Glasgow, Nova Scotia. He has appeared on stages across Canada. He wrote and performed an autobiographical play Tightrope Time: Ain't Nuthin' More Than Some Itty Bitty Madness Between Twilight and Dawn, one of the first plays in the history of Black Canadian literature to directly present themes of male homosexuality.
Borden was awarded the Queen Elizabeth II Golden Jubilee Medal, the African Nova Scotia Music Association (ANSMA) Music Heritage Award, and the Portia White Prize (awarded annually by the Nova Scotia Arts Council to someone who has made a significant contribution to culture and the arts in Nova Scotia). He was named a Member of the Order of Canada in 2006, and a member of the Order of Nova Scotia in 2004
Learn more…