Arabic language Name & Pronoun poster!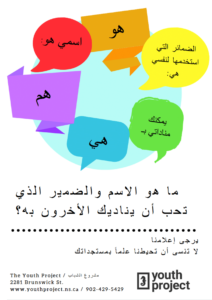 Our "What Name and Pronoun Do You Use?" poster is now available in Arabic! If you would like a copy, they're downloadable in PDF format here on our resource page (scroll to bottom!). 
They're currently available in English, French and Arabic.
Many thanks to the kind folks from ISANS and Queer Arabs Halifax for their support in making this resource available! Please use and share!