A conference for Gender/Sexuality Alliances (students and teacher-advisors) at the junior high & high school levels! A day of workshops, guest speakers , skill-builders and the chance  to connect with each other!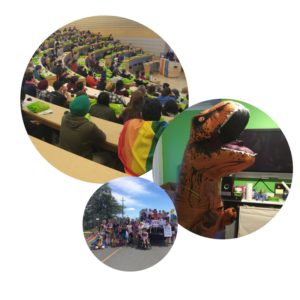 We hope you're ready for a fun filled day of new people, ideas, and connections. This will be the 8th year we see GSAs from across Nova Scotia gather together to share, learn, and take back amazing skills and energy to their schools and communities.
Registration opens: Date to be added. 
Saturday, April 7th
Dalhousie University
Marion McCain Building
6135 University Ave, Halifax, NS
(Google Map)
9:00-10:00 : Registration
10:00-3:30 : Conference!
About our keynote: 
Rae Spoon is an award-winning Canadian musician, songwriter, producer, multi-instrumentalist and author. They have released eight solo albums spanning folk, indie rock and electronic genres over the past twelve years and have toured across Canada and internationally. Rae was the subject and composer of the score for the National Film Board–produced musical-documentary My Prairie Home, which premiered at Sundance Film Festival in 2014. They have been nominated for two Polaris Prizes, a Lambda Literary Award, a Western Canadian Music Award, a CBC Radio 3 Bucky Award and a MOTHA Transgender Musician of the Year Award.